Blackwater Valley Opera Festival has been awarded national funding by Creative Ireland to deliver a new programme of Covid Care Concerts in residential care homes across Waterford in August and September.
Following a successful first series of concerts in June 2020, Blackwater Valley Opera Festival and Mobile Music Machine will return to 10 care home settings in Waterford, Lismore, Cappoquin and Dungarvan. Covid Care Concerts is a new project designed to bring classical music into the lives of the most vulnerable members of society and those most affected by the COVID19 pandemic.
The Covid Care Concerts have already reached over 1,000 care home residents and staff in the county, including a web broadcast in two venues. Funding support from Creative Ireland Waterford will bring the eagerly anticipated concerts back to these settings for another two weeks and will include first-time concerts in Waterford General Hospital, in collaboration with the HSE.
Blackwater Valley Opera Festival partner with the renowned classical music ensemble Mobile Music Machine to deliver these one-hour concert recitals at an appropriate social distance in the grounds of care homes. Residents and staff gather in outdoor areas or listen to the performance through open windows and doors and feedback from the first series of concerts has been overwhelming.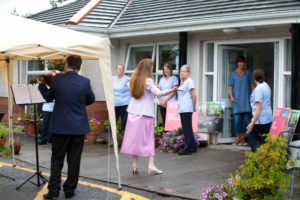 Blackwater Valley Opera Festival Director Eamonn Carroll says "as the general population emerges from lockdown it is worth remembering the long-term, isolated members of our society. Through our repeated concert visits, we hope to bring joy and build long-lasting friendships with the residents of care homes throughout the county. Many residents told us they were amazed that such high calibre musicians came to visit their care-home in Waterford, and we hope to make this a new normal. Our Covid Care Concerts are an expression of our continued commitment for our local communities and we are indebted to Creative Ireland and Waterford Local Authority for supporting us in the development of this vital initiative".
The Mobile Music Machine is a leading national music education company, founded by acclaimed Irish cellist Gerald Peregrine. Gerald reports "one resident's experience best sums up the project. Aged 92, she had been in bed for three weeks prior to our concert visit in June. Her carers persuaded her to get dressed and come outside. She had been a keen music lover her entire life and told us that she never expected to relive that part of her life again. The change in her mood was transformative and she said she can't wait for the next concert!"
The Creative Ireland Programme is a Government initiative which places creativity at the centre of public policy. It is a culture-based programme designed to promote individual, community and national well-being. Through Creative Ireland's Creativity in Older Age Programme funding was allocated to provide the series of concerts in Waterford. Creative Waterford Coordinator Katherine Collins says 'the remit of Creative Waterford is to support creativity in communities, and what better way to do this than to provide music and joy to our older communities during difficult times. Creative Waterford is delighted to be working with world class musicians to bring high quality cultural activity to residents in care settings".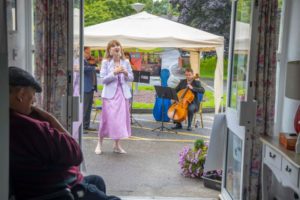 The Blackwater Valley Opera Festival, Ireland's only summer opera festival, is a celebration of opera and classical music set in the heart of Ireland's Ancient East. Tucked away in the breath-taking Blackwater Valley, we stage opera in Lismore Castle and a programme of recitals and concerts in some of the great houses of the region. The 2021 Festival will take place from 1st-7th June and will feature an opera double bill Gianni Schicchi by Puccini and Pagliacci by Leoncavallo.
For further information on Covid Care Concerts, please contact Eamonn Carroll on 087 2865207.
w: www.blackwatervalleyoperafestival.com
COVID CARE CONCERT SCHEDULE AUGUST 2020
MONDAY 17 AUGUST
11:30am
CARTHAGE'S HOUSE, Lismore, Co. Waterford
3.00pm
DUNGARVAN COMMUNITY HOSPTIAL AND DUNABBEY HOUSE NURSING HOME, Dungarvan, Co. Waterford
_______________________________________________________________
TUESDAY 18 AUGUST
11:30am
PADRE PIO REST HOME, Cappoquin, Co. Waterford
3:00pm
JOSEPH'S NURSING HOME, Ferrybank, Co. Waterford
_______________________________________________________________
WEDNESDAY 19 AUGUST
11:30am
HOLY GHOST RESIDENTIAL HOME, Co. Waterford
2:30pm
MOWLAM HEALTHCARE, Co. Waterford
_______________________________________________________________
THURSDAY 20 AUGUST
12 noon
WATERFORD GENERAL HOSPITAL
2:00pm
WATERFORD GENERAL HOSPITAL
____________________________________________________________________
FRIDAY 21 AUGUST
11:30am
HAVENWOOD RETIREMENT VILLAGE, Co. Waterford
TIME: 2:30pm
MAYPARK HOUSE NURSING HOME, Co. Waterford.