Past Festival Information
The 12th Blackwater Valley Opera Festival 2022 – Gluck's Orfeo ed Euridice
Gluck's popular opera Orfeo ed Euridice was the headline event over four evenings from June 1 – 5, 2022 at Lismore Castle, the heart of the Blackwater Valley Opera Festival. It is one of the most popular works by renowned composer Gluck, first performed in Vienna in 1762. This love story is based on the myth of Orpheus, a demigod with a talent for music. When his bride Euridice dies, he seeks her soul in the underworld.
 Orfeo ed Euridice was directed by David Bolger and conducted by Peter Whelan – one of the most sought-after young directors in the world. The opera featured a fantastic cast, including rising star Wexford soprano Kelli-Ann Masterson, Meili Li, the first Chinese countertenor to have an international career, Irish lyric-coloratura soprano Aoife Gibney, who has performed leading roles on various stages in Europe, and rising stars from the outstanding Blackwater Valley Opera Festival Chorus. This Orfeo highlights video showcases our 2022 opera, which featured new artistic collaborations with the acclaimed Irish Baroque Orchestra, and dancers from the award-winning CoisCéim Dance Theatre.
In 2022, Blackwater Valley Opera Festival welcomed more than 4,200 visitors to 19 events over seven days – with opera, concerts, recitals, education programmes and dining.
Thousands of visitors also enjoyed the free lunchtime open-air lunchtime recitals in Youghal, Fermoy, Lismore and Dungarvan; schools night at the opera – a free, full scale dress rehearsal production of Gluck's 
Orfeo ed Euridice 
in the grounds of Lismore Castle, Co. Waterford; as well as classical music concerts and recitals throughout Waterford and Cork.
Thank you to all of our performers, musicians, audiences and supporters!
JOIN US NEXT YEAR FOR IRELAND'S SUMMER OPERA FESTIVAL  –
Save the date! 30 May – 5 June 2023
🎬Video by Gansee Films
ORFEO ed EURIDICE CAST
Orfeo – Meili Li
Euridice – Aoife Gibney
Amor – Kelli-Ann Masterson
Chorus – Blackwater Valley Opera Festival
Sopranos – Hannah Barrett | Tara McDermott | Blathnaid Nicholson
Mezzos – Clíodhna Regan | Fidelma Kelly
Tenors – Keith Matthews | Oisín Ó Dálaigh | Stephen Walker
Basses – Eoin Foran | David Mulhall | Fionn Ó hAlmhain
Dancers – Salma Ataya | Vitor Bassi | Justine Cooper | Mia DiChiaro | Jonathan Mitchell | Alex O'Neill | Donking Rongavilla | Rosie Stebbing Gatekeepers – Mya Morrissey | Daria Falcaru
ORCHESTRAL
Orchestra – Irish Baroque Orchestra Violin 1 – Claire Duff | Nicola Cleary | Leonie Curtin Violin 2 – Silvia Schweinberger | Rachael Masterson Viola – Elitsa Bogdanova | Martha Campbell Cello – Norah O'Leary | Alina Mayer-Whitla Double Bass – Alex Felle Flute – Elisabeth Vogel | Dora Ombodi Oboe – Alexandra Bellamy | Hilary Stock Horn – Patrick Broderick | Kate Goldsmith Trumpet – Nicholas Emmerson Timpani | Richard O'Donnell Harp – Siobhan Armstrong
CREATIVE TEAM
Artistic Director – Dieter Kaegi Conductor – Peter Whelan Director & Choreographer – David Bolger Set & Costume Design – Maree Kearns Lighting Design – Eamon Fox Wigs, Hair & MakeUp – Maeve Readman Chorus Director | Repetiteur – Mairead Hurley
CREATIVE PARTNERS
CoisCéim Dance Theatre CEO – Bridget Webster | GM – Sarah Latty | Irish Baroque Orchestra CEO – Aliye Cornish Moore | Orchestral Manager – Doireann Kelly
The 11th Blackwater Valley Opera Festival 2021 – Puccini's Gianni Schicchi
Following a year with no festival due to COVID-19 restrictions, Blackwater Valley Opera Festival presented Puccini's comedic opera Gianni Schicchi in 2021.
Highlights from the 2021 recitals and concerts programme included two sold out performances of Anthony Kearns Gala Concert – A Tribute to Count John McCormack and a series of Bursary Recitals, with award winners from the BVOF Bursary, RDS Collins Memorial Award and Irish Heritage Bursary performing over the course of the festival.
Along with the opera, concerts and recitals, a number of outreach initiatives were developed for the 2021 festival. BVOF partnered with Music Generation to develop a new 'Discover Opera Trail' for local primary schools. The festival also included a number of Covid Care Concerts in partnership with the Mobile Music Machine, bringing classical music to care homes across the country. Another first for the 2021 festival was BVOF Open Air – a series of free open air lunchtime recitals bringing a taster of the festival to Waterford and Cork.
CAST:
Gianni Schicchi – Leonardo Galeazzi
Lauretta – Solen Mainguené
La Ciesca – Gemma Ní Bhriain
Rinuccio – John Porter
Gherardo – James Nelson
Nella – Sandra Oman
Gherardino – Darragh O'Connor / Senan Reade
Betto di Signa – Rory Dunne
Simone – John Molloy
Marco – Rory Musgrave
Zita – Bríd Ní Ghruagáin
Maestro Spinellocciom – Jakob Mahase
Ser Amantio di Nicolao – Fionn Ó hAlmhain
Pinellino – David Mulhall
Guccio – Tim Mays
Maid – Naho Koizumi
CREATIVE TEAM:
Artistic Director – Dieter Kaegi
Direcor, Set & Costume Design – Pierre- Emmanuel Rousseau
Conductor – Darren Hargan
Festival Director: Eamonn Carroll
The 10th Blackwater Valley Opera Festival 2019 – Donizetti's Don Pasquale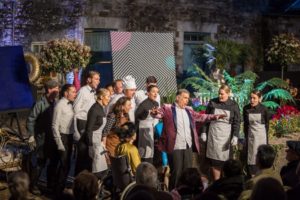 In 2019 Blackwater Valley Opera Festival celebrated its 10th anniversary with a memorable production of Donizetti's Don Pasquale at Lismore Castle. The story of Don Pasquale revolves around a classic comedic premise: a young couple in love schemes to thwart the inappropriate plans of a pompous old man, who wants to marry the girl himself. What makes the opera notable within this familiar genre is its emphasis on genuine human emotion. Donizetti's score is graceful and effervescent, as one would expect from this master of melody, but adds an additional level of sophistication to match the comic (yet insightful) proceedings.
Highlights from the Recitals and Concerts Programme included Giovanni Bellucci's candlelit piano concert with music by Liszt at Dromore Yard.
CAST:
Don Pasquale – Michele Govi
Ernesto – Manuel Nuñez Camelino
Malatesta – Emmett O'Hanlon
Norina – Aoife Gibney
CREATIVE TEAM:
Artistic Director – Dieter Kaegi
Conductor – Darren Hargan
Director – Pierre-Emmanuel Rousseau
Sets and Costumes – Slawek Narwid
Festival Director: Eamonn Carroll
The 9th Blackwater Valley Opera Festival 2018 - Rossini's L'Italiana in Algeri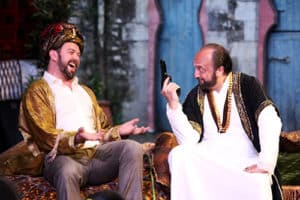 Building on the legacy of the Lismore Opera Festival the rebrand in 2018 to The Blackwater Valley Opera Festival came as a result of the expansion of the festival programme to a larger number of venues for recitals along The Blackwater in this most idyllic part of Ireland's Ancient East. The opera also extended for a third night with an opening Gala Night on Wednesday with the magnificent Lismore Castle again playing host to these well received performances.
Artistic Director, Dieter Kaegi, programmed Rossini's tale of intrigue, comedic mischance, and the triumph of love – and of strong women! L'Italiana in Algeri was premiered in Venice in 1813, and has been delighting audiences for more than 200 years.
Fusing sustained energy, with elegant melodies, the opera tells the tale of Elvira and Isabella, who must together make a plan to ensure that love will conquer all.
CAST:
Mustafa – Leonardo Galeazzi
Isabelle – Rachel Kelly
Lindoro – Javier Abreu
Elvira – Rachel Croash
Taddeo – Rory Musgrave
Zulma – Sandra Oman
Haly – Rory Dunne
CREATIVE TEAM:
Artistic Director – Dieter Kaegi
Conductor – Marco Zambelli
Director – Pierre Emmanuel Rousseau
Sets and Costumes – Slawek Narwid
Festival Director: Gemma Tipton
The 8th Annual Lismore Opera Festival 2017 - Donizetti's L'Elisir D'Amore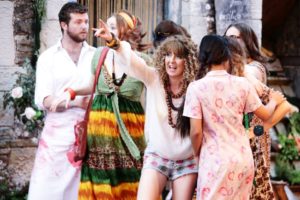 The festival presented a new production Donizetti's much loved comic opera, L'Elisir D'Amore, directed by Dieter Kaegi in the stunning surroundings of Lismore Castle stables and Gardens over two nights.
CAST – L'ELISIR D'AMORE
Anthony Kearns – Nemorino (Tenor)
Majella Cullagh – Adina (Soprano)
Damon Nestor Ploumis – Dr. Dulcamara (Bass)
Sandra Oman – Giannetta (Soprano)
Rory Musgrave – Belcore (Baritone)
LOF CHORUS comprising 12 students from (DIT, RIAM and Cork School of Music)
LOF CHAMBER ORCHESTRA
Director – Dieter Kaegi
Producer / Festival Manager – Jennifer O'Connell
Conductor – Marco Zambelli
Set Designer – Martin Boylan
Hair and Make up –  Maeve Readman
Costumes – Slawek Narwid
The 7th Annual Lismore Opera Festival 2016 - Mozart's Cosi fan Tutte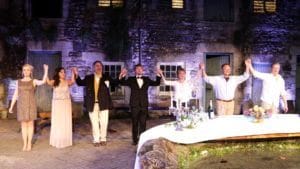 The festival presented the  production of Cosi fan Tutte in the familiar and beautiful surroundings of Lismore Castle's gardens and stables, accompanied by LOF Chamber Orchestra and sung in Italian and  English. The recitatives, with the text often updated to include contemporary references, were given in English, the arias in the original language.  The stable setting was the inspiration for this year's updating of the opera which was considered a real coup de théâtre by Michael Dervan in the Irish Times.
Don Alfonso, Damon Nestor Ploumis, Bass
Guglielmo, Gavan Ring, Bass
Dorabella, Michelle Daly, Mezzo-Soprano
Fiordiligi, Rachel Croash, Soprano
Despina, Sandra Oman, Soprano
Ferrando, Nicholas Ransley, Tenor
Lismore Opera Festival Chamber Orchestra
Reduced orchestration provided by Pocket Publications.
Conducted by Killian Farrell
Leader: Kenneth Rice.
Violin: Marian Power.
Viola: Niamh Roache.
Cello: Michelle Mason.
Double Bass: David Wickla.
Flute: Mairead English.
Oboe: Jenny Magee.
Clarinet: Ronan O Sullivan.
Bassoon: Sinead Frost.
French Horn: Liam Daly.
Jennifer O'Connell – Producer / Festival Manager
Dieter Kaegi – Artistic Director
Aidan Wallace – Production Manager
Benny Lynch – Sound
Richard O'Neill – Lighting
Des Fitzsimons – Sets construction
Slwavek Narwid – Costumes
Meave Readmann – Wigs, Hair & makeup
Mary O'Connell – Wardrobe Mistress
The 6th Annual Lismore Opera Festival 2015 - Rossini's La Cenerentola

Carolyn Dobbin: Angelina (Cenerentola, Cinderella), Mezzo
Javier Abreu: Prince Ramiro, tenor
Davide Bartolucci Dandini, valet to the Prince, baritone
Damon Ploumin Nestor: Don Magnifico, Cenerentola's stepfather, bass
Dario Dugandzic: Alidoro, Philosopher and the Prince's former tutor, bass, Chorus member
Sandra Oman: Clorinda, Don Magnifico's older daughter, soprano
Norah King: Tisbe, Don Magnifico's younger daughter
LOF Male Chorus: Courtiers from Prince Ramiro's Palace
LOF Chamber Orchestra
Conductor: Marco Zambelli
Leader: Sylvia Roberts.
Violin: Lesya Iglody
Viola: Aoife Durnin
Cello: Michelle Mason
Double Bass: Aura Stone
Flute: Mairead English
Oboe: Sile Daly
Clarinet: Deirdre O Leary
Bassoon: Matthew Caufield
French Horn: Liam Daly
Harpsichord: Marco Zambelli
The 5th Annual Lismore Opera Festival 2014 - Mozart's Magic Flute
The festival presented a totally original production of Mozart's Magic Flute in a four pole circus tent provided by our friends and colleagues at Fossett's Circus accompanied by LOF Chamber Orchestra and sung in English. Lismore Opera Festival's creative team lead by Director Dieter Kaegi collaborated with Fossett's Circus creative team on aspects of the production. Robert Fossett worked with Dieter on the lighting design and the family run circus led by Marion, Angela and their mother 85 year old Herta assisted LOF costume manager Slawek Narwid to provide authentic costumes and props. Members of the Fossetts circus troupe were also working with the cast to perfect some circus techniques such as juggling and trapeze work.
The Queen of the Night character (Soprano) Kim Sheehan performed some specific circus tricks in a surprise entrance for her renowned aria. The opera featured a mainly Irish Cast of singers and musicians, directed by Dieter Kaegi and were conducted by Italian Maestro, Marco Zambelli. The production also featured members of the Piccolo Lasso Children's Choir under the direction of Ite O'Donovan.
The 4th Annual Lismore Opera Festival 2013 - Mozart's The Marriage of Figaro
The festival presented a new production of Mozart's much loved comic opera, Le nozze di Figaro or The Marriage of Figaro, directed by Dieter Kaegi in the stunning surroundings of Lismore Castle stables and Gardens.  The production featured an entirely Irish cast and chorus including worldclass singers such as Celine Byrne, Owen Gilhooly,  Kim Sheehan, Rachel Kelly, Gavan Ring, Joe Corbet, Mark Duff, Sandra Oman, Shauna Buckingham, along with a chorus of local choral singers and students from the Cork School of Music. The LOF Chamber Orchestra featured four members of the world renowned Lucernce Festival Strings from Switzerlandand Bill Dowdall (flute), Leonie Bluett (clarinet) and Ide Ni Chonnaill (Bassoon) under the baton of Italian conductor, Marco Zambelli who will also play pianoforte.
The 3rd Annual Lismore Opera Festival 2012 - Rossini's Barber of Seville
This year, the festival presented:
Two performances of a new production of Rossini's The Barber of Seville at Lismore Castle
A special schools education and audience development performance in the presence of President Michael D Higgins
A Rossini concert at St. Carthage's Cathedral
A recital at Salterbridge House
A festival barn dance at Fort William Farm
A variety of free events in the town of Lismore over the festival weekend.
The 2nd Annual Lismore Opera Festival 2011 - Mozart's Don Giovanni
LOF had assembled a fantastic cast of Irish and International singers and musicians for this unique Summer Musical event.  The Don Giovanni cast included,  Anthony Kearns as Don Ottavio; Cara O'Sullivan as Donna Anna;  Andrew Ashwin as Don Giovanni,  John Molloy as Leporello;  Fiona Murphy as Donna Elvira;  Mary O'Sullivan as Zerlina;  Gerard O'Connor as Commendatore & Gavan Ring as Masseto
The LOF Chamber Orchestra included Cora Venus Lunny – violin; Adrian Hart – violin;  Kate Ellis – cello;  Fiona Kelly – flute;  Nick Roth – saxophones; Colm O'Hara – trombone; David Adams – piano / harpsichord and Larrissa O'Grady – Viola & Violin.
The 1st Annual Lismore Opera Festival 2010 - Bizet's Carmen
The inaugural performance by Lismore Opera Festival. Presented at the new home of the opera, Lismore Castle.
Artistic Director, Dieter Kaegi, directed the cast in the idyllic setting of the stable yard. Fiona Murphy's Carmen seduced the Don José of Richard Crawley. While Sandra Oman and Deirdre Masterson's, Frasquita and Mercedes, trifled with Benjamin Russell's, Dancaire, and Eric Martin-Bonnet's, Zuniga. David Adam Moore's Escamillo made a stunning entrance upon a red sports car to a rapturous applause from the audience, while Kim Sheehan captivated us all.
Redmond O'Toole led an ensemble of violin, 8 string guitar, accordion, double bass and drums to much acclaim.
​