As part of an exciting programme celebrating the 10th anniversary of the Blackwater Valley Opera Festival Dromore Yard plays host this year to two very special evening concerts, commencing at 8:15pm, which are sure to delight our audiences.
We are thrilled to present such exceptional artistic talents at this romantically restored 19th century farm setting. The intimacy and connection between performers, audiences and nature at the venue makes for a wonderful evening's entertainment. Tickets for both Concerts are available here. The opening concert on Thursday May 30th features three exceptionally talented musicians who come together in concert for the very first time. We are delighted to welcome back Nadege Rochat who enthralled our audience last year on her Stradivarius cello. This year she will be joined by Pablo Barragán on Clarinette and Maki Wiederkehr on piano. The concert, titled 'Impressions', will feature the works of Stanford, Trimble, Ireland & Brahms.
On Sunday evening, June 2nd, World-famous Italian pianist Giovanni Bellucci plays a programme of opera paraphrases, for which he has gathered a devoted international following. This will be a unique opportunity to experience this extraordinary performer who has played solo concerts in many of the great opera houses of the world. BVOF Artistic Director Dieter Kaegi says, "We are honoured and delighted that Mr Bellucci has agreed to play a concert with the most challenging opera paraphrases composed by Liszt at our Blackwater Valley Opera Festival. It allows us to showcase one of the greatest piano playing talents today". See our clip of Giovanni Bellucci in concert below.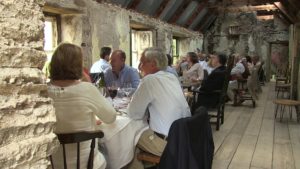 A gastronomic array of food will be prepared by our Guest Chef, Rose Greene before Sunday evenings Concert having already been booked out for the Thursday event. Each night we will also be offering a more informal option of a picnic box by Mezze of Waterford. Book Concert Tickets Here Book Dining or Picnic Here