Are you interested in being part of an exciting, unique cultural event, right on your doorstep? Do you love music and opera or have an interest in event management? Would you like to meet new people and try new experiences? Then volunteering at this year's Blackwater Valley Opera Festival might be just the thing for you.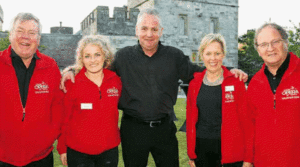 Every year Blackwater Valley Opera Festival, centred in Lismore, runs a series of concerts, recitals and events across the June bank-holiday weekend and the highlight is the Opera production in the grounds of Lismore Castle. This year the festival runs from 28th May – 3rd June 2019. The BVOF offers you the unique experience of working closely with other volunteers and professionals, to ensure that every event runs smoothly.
We have an incredibly exciting and diverse range of events to get involved in. From pop-up opera on Lismore Main Street to elegant concerts at Dromore Yard, from the buzz and glamour of the Opera to the intimate recitals along the Blackwater Valley.
We need volunteers more than ever to help support this exciting programme of events.
We are looking for all kinds of expertise, from traffic controllers to bar staff to ushers, drivers and runners. We are keen to build a team of committed individuals who all benefit from their time spent on the festival.
What's in it for you?
A lot of satisfaction, knowing that you are helping to ensure that this unique event happens for years to come.
The appreciation of more than 3,000 visitors to the opera and recitals.
A festival fleece for you to keep.
Learn a lot about:

looking after the General Public
about what happens behind the scenes at a big Public Event
about what happens behind the scenes at the opera

Worthwhile experiences to add to your CV
A volunteer's event in the week after the festival with refreshments and food, where we look back on what has been achieved.
Hear what previous Volunteers say;
"I enjoyed meeting and interacting with the opera-goers who were so nice and genuinely interested in hearing about this fabulous area of West Waterford that we live in" Helen 2018
"It was so exciting to get to work with the opera singers and see how the whole show is put together" Lucy 2018
"The Festival is very important to Lismore. There is a great sense of teamwork and community spirit among the volunteers in welcoming everyone who comes to the Festival" John 2018
Volunteering with BVOF is a unique opportunity to see up-close how the festival runs while work alongside professional musicians and artists and providing an opportunity to make new friends in a unique setting.
Signing up for 2019 is incredibly easy.
All you need to do is click on this link and fill out the form to join our team.
We are looking forward to working with you.
With best wishes from the whole BVOF team.