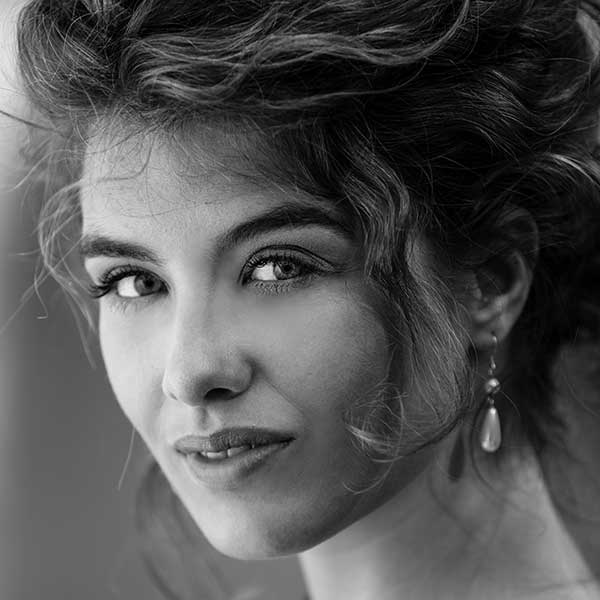 International soprano Solen Mainguené was due to take up the roles of 'Lauretta' and 'Nedda' in Gianni Schicchi/Pagliacci for the BVOF in 2020. It was to have been her Irish debut and her first visit to Ireland and so she is doubly disappointed that the Festival has been cancelled, however, also thrilled that she will take up the role again in 2021. Solen has kindly made BVOF a video talking through Nedda's aris from Pagliacci which you can view at the bottom of this article.
Solen Mainguené is an emerging talent from Orange in Provence, south of France. Described by German Opernnwelt Magazine as a cross between Scarlett Johansson and a young Anna Netrebko, she is praised equally for her singing and acting skills and has enjoyed her prolific collaborations with numerous renowned stage directions, amongst them: David Alden, Johannes Erath, Frank Hilbrich, Bob Wilson, Andreas Homoki, Antu Nunes, Johannes von Matuschka, Clarac Deloeuil Le Lab and David Pountney.
​Solen started her undergraduate training in cello and voice at the age of 15 at the "Conservatoire de Rennes" in France. She then undertook a Bachelor at the "Peabody Conservatory" of the Johns Hopkins University in Baltimore, U.S.A, shortly followed by a Masters from the Opernklasse at the "Universität Mozarteum" in Salzburg, Austria. Her teachers include: Stanley Cornett, Phyllis Bryn-Julson, Boris Bakow, Alessandro Misciasci, Cheryl Studer, John Shirley-Quirk and Neil Semer.
​In 2012, the Solen became a member of the prestigious Opera Studio of the Hamburg State Opera and since then appears regularly as a guest. Whilst in Hamburg, she performed numerous roles, including: MUSETTA in "La Bohème", FIRST LADY in "Die Zauberflöte" and MICAELA in "Carmen". She covered numerous leading sopranos including Anita Hartig, Ailyn Perez, Nino Machaidze or Tatiana Lisnic.
The Blackwater Valley Opera Festival are really look forward to welcoming her in the roles of LAURETTA in "Gianni Schicchi" and NEDDA in "Pagliacci" at the Blackwater Valley Opera Festival in Ireland in 2021.