Blackwater Valley Opera Festival and the Royal Irish Academy of Music have announced pianist Ella Nagy and soprano Abigail LaDuke as the 2022 recipients of the transformativenew music prize to support the studies of two RIAM master's students each year.
The BVOF/RIAM Next Generation Award is the largest bursary of its kind in Ireland, awarding €20,000 to each winner to assist in the completion of his or hertwo-year Master in Music Performance degree at RIAM. The winners will also receive a prestigious performance opportunity at the Blackwater Valley Opera Festival in June 2023.
A native of Minnesota, soprano Abigail LaDuke earned her Bachelor of Music degree from Concordia College and started her master's studies at the Royal Irish Academy of Music in September. Deeply interested in many forms of art music, she takes great pride in researching and sharing new and unfamiliar pieces with audiences.
"I am deeply honoured to receive the 2022 Royal Irish Academy of Music/Blackwater Valley Opera Festival Next Generation Award and look forward to giving the accompanying concert at Salterbridge House in Waterford at the 2023 Blackwater Valley Opera Festival"
LaDuke said on receiving the scholarship.
Ella Nagy is an 1848 scholar at the Royal Irish Academy of Music. She enjoys playing both solo and chamber music, and is particularly interested in Contemporary and Baroque music. She has previously appeared as a soloist with the RTÉ National Symphony Orchestra and has given many solo and ensemble performances in Ireland, Hungary, and in the United States of America.
"I am honoured to be the recipient of the BVOF/RIAM Next Generation Awards and grateful for the funding that not only makes my postgraduate studies possible but includes exciting concert engagements with Ireland's Summer Opera Festival."
BVOF/RIAM Next Generation Awards
Blackwater Valley Opera Festival has carefully devised the BVOF/RIAM Next Generation Awards to meaningfully support the next generation of classical musicians, studying and working in Ireland.
The entrance bursary provides access to theacclaimed master's programme at the RIAM, plus a unique performance platform at the internationally acclaimed summer opera festival – within the impressive setting of the Blackwater Valley in County Waterford.
Speaking at the awards announcement, RIAM Director Deborah Kelleher, said:
"We were thrilled at the massive response to this truly life-changing award and congratulate Abigail and Ella on their achievement."
"The standard of the applicants was exceptional and deliberations over the two final awardees were long and difficult, but the two deserving winners will add to the creative lifeblood of RIAM for the next two years; and no doubt bring their exceptional talents to Irish and international audiences long after their studies at RIAM have finished."
"I would like to thank BVOF and the John Pollard Foundation for making this generous bursary available to RIAM students and look forward to reviewing our 2023 applicants. Applications for RIAM master's programmes are now open, and all international applicants will be considered for the award in 2023."
Director of Blackwater Valley Opera Festival, Eamonn Carroll, added:
"The new BVOF/RIAM Next Generation Awards continues to provide vital support for emerging artists in Ireland; it has always been our ethos to support and promote exceptional talent and we are delighted to partner with RIAM on this important initiative."
"Ella and Abigail have impressed both BVOF and RIAM with their passion and commitment to their chosen disciplines, and we look forward to seeing them each take the next step in their respective musical journeys."
"The Next Generation Awards is a highly prized addition to our existing bursary programme, which also includes our own annual BVOF Bursary Award of €10,000 and collaborations with the RDS and Irish Heritage."
The 2023 award is open to vocal and instrumental students worldwide who apply to study on the Master in Music Performance programme at the Royal Irish Academy of Music, with a particular focus on applications from tenor/countertenor for the vocal award.
One vocal student and one instrumental student will be chosen through their RIAM audition to receive the award, which will be provided as €10,000 in Year 1 and €10,000 in Year 2 of their studies. Students interested in studying at master's level at the RIAM from September 2023 can apply before 21st December 2022. All applicants will be eligible for the award.
More information on how to apply and audition requirements can be found on riam.ie/apply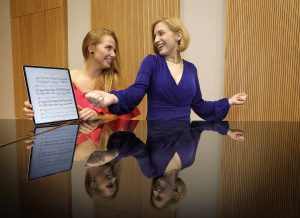 Blackwater Valley Opera Festival
Ireland's Summer Opera Festival will celebrate its 2023 season from 29 May – 5 June 2023 in Lismore, County Waterford. There will be a wealth of innovative classical music recitals and concerts, schools and free events, and fine dining experiences at fantastic venues throughout the Blackwater Valley.
Next year's highlights will include a series of unmissable concerts at the breath taking Dromore Yard, and a summer series of beautiful recital programmes in the magical surrounds of West Waterford and beyond.
Blackwater Valley Opera Festival is supported by grants from the Arts Council, Waterford City & County Council, Waterford Leader, and Fáilte Ireland. The festival's lead sponsors are Kildare Village, Marsh, AIB and the John Pollard Foundation.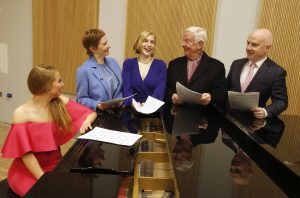 Royal Irish Academy of Music
Ireland's oldest conservatoire, an associate college of Trinity College, the University of Dublin, and ranked in the top 50 institutions in the world for the performing arts, the RIAM offers junior, pre-college, undergraduate and postgraduate musical training of the highest standards. RIAM Exams assess and support the learning and development of young musicians and their committed teachers throughout the island of Ireland. The RIAM is proud to provide individually tailored music education with the most one-to-one tutor hours of any music conservatory in Europe. Only a small number of students are accepted each year, ensuring greater performance opportunities and deeper relationships with heads of faculty, expert teachers, and fellow students.
Performance opportunities include masterclasses with internationally acclaimed artists, solo and chamber music recitals, large-scale opera productions, International touring opportunities through collaborations with Juilliard School of New York, Guildhall School of Music and Drama, London, and the Conservatoire national supérieur de musique et de danse de Paris, and large ensemble performances with the RIAM Philharmonia, RIAM Baroque Ensemble, RIAM Opera Orchestra, and RIAM Ensemble Interforma.
In January 2023 RIAM will launch its brand new €25 million world-class music campus that will double the number of teaching and practice rooms and includes a 300-seat Recital Hall, Library and Research Hub, Opera Studio, Music Discovery and Therapy facilities, and a Sonic Arts Hub.
The Master in Music Performance Programme attracts instrumentalists and vocalists from all over the world who have achieved a high level of technical and musical skills in their undergraduate studies and want to work with the RIAM's renowned tutors.