H.S.H. Prince Albert II of Monaco
and guests enjoyed a
Joyce in Music
recital on December 16 at the
Princess Grace Irish Library
in the principality of Monaco – with a superb performance by Irish artists, honouring James Joyce's literary legacy and love of music. This exciting BVOF | PGIL musical event featured Caroline Behan – Soprano | Andrew Gavin – Tenor | Máire Carroll – Piano | Barry McGovern – Actor.
2022 was the first year that the Princess Grace Irish Library and Blackwater Valley Opera Festival collaborated. As part of the library's 2022 cultural programme and centenary celebrations for Ulysses, the Joyce in Music recital was performed in June at St Carthage's Cathedral, Lismore.
Our December 16th reciprocal event in Monaco was made possible with the generous support of
Culture Ireland
and
Stonehage Fleming
– one of the world's leading independently owned multi-family offices, whose worldwide network has expanded recently with an office in Monaco.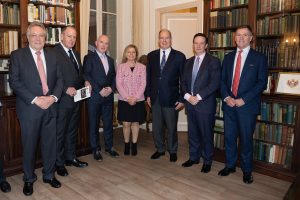 "
Stonehage Fleming is proud to support the Blackwater Valley Opera Concerts and Recitals programme, including this celebration of Ireland's literary heritage and the important ongoing work they do to support and encourage young performers. As a multi-family office, Stonehage Fleming helps families and other wealth creators plan for and manage their wealth, so we understand the importance of providing knowledge, support and guidance when it is most needed,
" said Andrew Clarke, Group Head of Business Development.
"Blackwater Valley Opera Festival is delighted to partner with the Princess Grace Irish Library and the Royal Irish Academy of Music to bring this unique cultural event to Monaco, honouring Ireland's rich literary and musical history. This spectacular fusion of spoken word and music provides a vital performance opportunity for some of Ireland's brightest and most outstanding emerging artists, an important part of the Blackwater Valley Opera Festival mission" added Eamonn Carroll, BVOF Festival Director.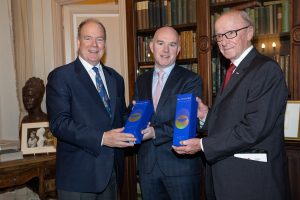 BVOF extends gratitude for the loan of the piano from L'Académie Rainier III de Monaco, and thanks to
Waterford Whisky
and
La Distillerie de Monaco
for sponsoring the evening reception for the
Joyce in Music
recital at Princess Grace Irish Library, Monaco.
Central image: (L-R) Dieter Kaegi, BVOF Co-founder and Artistic Director, Eamonn Carroll, BVOF Festival Director, Barry McGovern, H.S.H. Prince Albert II of Monaco, Máire Carroll, Andrew Gavin, Caroline Behan.
Image 2: with Stonehage Fleming. Image 3: with Waterford Whisky
palais – Gaetan Luci.
The library took the opportunity to announce its cultural programme for the New Year. To honour Princess Grace's Irish-American heritage, the theme for 2023 will be: 'Irish-American influence on literature, music and culture'
A preview of the 2023 PGIL programme:
• January 18th – a lecture in person by the Irish Georgian Society, Executive Director, Donough Cahill.
The IGS, which has a strong presence in the USA, was founded in 1958 for the protection of buildings of architectural merit in Ireland.
• February – a lecture in person by The Ireland Funds Monaco Writer-in-Residence (details soon)
• March – St Patrick's Day concert by pupils from l'Académie Rainier III de Monaco and a special
guest from Ireland to introduce the library's impressive collection of over 1,000 unique IrishAmerican music sheets, acquired by Princess Grace. The song lyrics recall the experiences of Irish
people who emigrated to the U.S.A., covering the years circa 1840-1940.
• May – Daniel Mulhall, Former Ambassador of Ireland to the United States (retired August 2022) and current New York University (NYU) Global Distinguished Professor of Irish Studies will deliver a
lecture in person at the library in Monaco.
• May – The library will collaborate again with the Blackwater Valley Opera Festival (BVOF) with a recital in Ireland during the Ireland's Summer Opera Festival from 29 May – 5 June 2023.