Although the primary attraction of our festival is music, we also invite a collection of phenomenally talented Chefs to feed our hungry guests each year.
Chef Rose Greene of 4 Hands Food Studio was our guest chef for the 2019 Evening Concert Series at atmospheric Dromore Yard. Rose is originally from Multyfranham, Co. Westmeath but her journey in food has seen her cook in many of the top restaurants around the world. Some of the Michelin starred restaurants Rose has cooked at include Le Champignon Sauvage, Number One at The Balmoral and the now closed and terribly missed In De Wulf.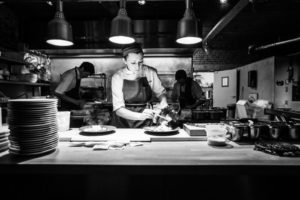 Rose is a true gastronomist she is continually experimenting with fermentation and has even done work with the microbiology department of the University of Antwerp. In more recent times Rose has returned to Ireland starting 4 Hands Food Studio. The project focuses on cultivating relationships with local producers and really being in tune with what nature can offer.
We sat down with Rose after the festival and asked her five questions all of which can be found below:
1) As the Guest Chef providing dinner for 120 people on each of two nights at Dromore Yard for The Backwater Valley Opera Festival what was your experience?
It was a remarkable experience to cook in such a beautiful and natural setting. Dromore Yard has a special charm which is rare to find, as a chef who is inspired by nature and works in a spontaneous fashion it was a real treat. The views out the kitchen window of rolling hills and the Blackwater valley, to foraging wild herbs in the courtyard… what more can you ask for!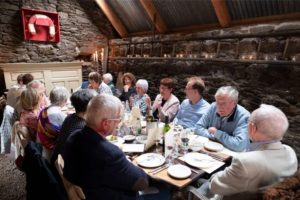 2) You've worked in Restaurants all around the world including stints in Scotland, Australia, France and Belgium. What brought you back to Ireland?
My career was very focused from an early stage, working internationally in renowned restaurants, but it came a time to achieve a better work-life balance, that is where the idea of 4 Hands Food Studio came into play. It wasn't an easy decision to choose where we would settle and set up our business, home in Ireland became the natural choice. We are seeing more and more people becoming aware of the state of our food system, we see Ireland as having alot of potential to make positive environmental changes, small organic producers are popping up throughout the country and there is the local support to make these businesses thrive. This is something we are proud to be part of.
3). If you had to characterise your food in just 3 words, what words would you use?
Natural-Nutritious-Fermented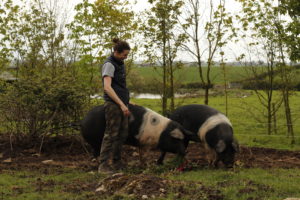 4) Does the fact you are cooking on the banks of the Blackwater River change your menu or affect how you approached the food you served at the Festival?
Each dining experience I create is different, my ethos is always the same but every menu is tailored to its surroundings. The Blackwater inspired the use of the many of the edible plants growing in the area. I developed a casual sharing style menu which give guests the opportunity to have a relaxed dining experience and enjoy the best of the environment
5) What is your best memory of Classical Music or Opera?
I will always remember my first real introduction to classical music. It was while visiting Holden Farm Dairy in Wales about 3 years ago. They produce Hafod the most incredible organic farmhouse cheese. Nick the farmer plays classical music while milking the cows, inspiration and enjoyment for both him and the cows. Nick sent us home with a little selection of Bach to get us started on our classical journey.
If you'd like to keep up to date with Rose Greene & 4 Hands Food Studio you can do so via Instagram here