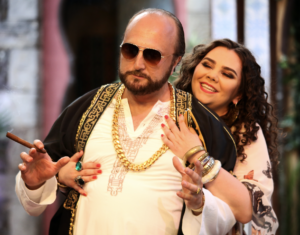 We are very excited to make the first official artist announcement for the 2020 BVOF Opera Double Bill. Leonardo Galeazzi will return to the Blackwater Valley Opera Festival portraying the title character of Giacomo Puccini's Gianni Schicchi. Galeazzi will also appear as Tonio in Pagliacci.
Many of you will recognise Leonardo Galeazzi from our 2018 festival where he portrayed Mustafa in our production of Gioachino Rossini's L'Italiana in Algeri. The Irish examiner said that the "Star of the show was the Italian baritone Leonardo Galeazzi who oozes oily charm as the gun-toting gullible Mustafa". After such a glowing review how could we not ask Leonardo to return?
In the years since Leonardo has graced the stage at Blackwater Valley Opera Festival, he's portrayed a great diversity of characters in some of the most revered opera houses and festivals across Europe. Among Leonardo's recent and future engagements are, Le Comte Ory (Gouverneur) in Metz, Così fan tutte (Don Alfonso) in Tours, Tosca (Sagrestano) at Aix en Provence and in Lyon, L'amour des trois oranges (Pantalon) at Teatro San Carloin Napoli just to name a few. Now we can very excitedly add Gianni Schicchi & Pagliacci at Blackwater Valley Opera Festival.
Over the coming weeks, we have the pleasure of being able to reveal our opera cast to you and a little bit of information about every member of the cast. We will be producing news articles just like this one for the entire cast of our opera double bill and posting about them across our social media channels until the start of the festival. We will also be revealing information about this year's festival via our Enewsletter which comes out once a month and can be subscribed to via the footer of any of our web pages. (scroll down to subscribe)
Follow Leonardo Galeazzi: Website – Facebook – Youtube