This series was devised in response to the many social challenges presented by Covid19 in residential care home settings. Our classical music ensemble performed 2 daily concerts during the week of June 22-26 (at an appropriate social distance) in 10 nursing homes across Co Waterford to over 1000 socially isolated residents. Huge thanks to Gerald Peregrine and Mobile Music Machine for their dedication and talent in presenting this important series of concerts.
Our Covid Care Concerts series is an appropriate expression of our commitment of support for our local communities. As a Festival we are committed to fostering a love of music and opera through our Education and Outreach programmes. In collaboration with Mobile Music Machine, we also run a thriving schools' programme based on our commitment to fostering a real passion for music in young people.
Some Kind Words:
"Apologies for my delay in emailing, I was away when you visited the home. I can truly say I received such wonderful feedback from both the residents and staff. They found the music thoroughly enjoyable and unique to anything they had heard in the home before. The staff commented that it was a beautiful session and so relaxing for all involved.
I watched a video of one of the songs and it was a great opportunity to practice some mindfulness and just be in the moment!
Wishing you all the best and would be delighted if you all could visit again at any stage"
Laura Sheridan, Director of Nursing
MAYPARK HOUSE NURSING HOME
"On behalf of residents & staff of Dungarvan Community Hospital & Dunabbey House , I would like to express our sincere thanks to both you & your visiting musicians who performed a most wonderful concert for the residents.
Feedback from all 6 units was absolutely wonderful , residents really expressed their enjoyment from the session. It was ideal that we were able to video link the concert to all units , enabling all residents to access the wonderful talent of the musicians.
The concert gave a great buzz to residents, which they particularly need during all these weeks of lockdown & enduring the visiting ban. It's been challenging for everyone but in particular the residents.
We all look forward to your next visit"
Paula French, Director of Nursing
DUNGARVEN COMMUNITY HOSPITAL AND DUNABBEY HOUSE
"I wish to extend a sincere thanks on behalf of the residents and staff at Waterford Nursing Home for what was a most uplifting musical event last Wednesday 24th June. At a time when residents have had so much of their social calendar restricted due to the "Cocooning "it raised their spirits in a way that's hard to describe. We all know the positive influence that music has in both lifting spirits and relieving stress and as I sat and listened to your wonderful quartet I had a thought that this was the beginning for many of us of life in the Nursing Home post Covid-19 restoring a sense of belonging and inclusion that was perhaps side-lined during the lockdown. The variety of music that was played and sung resonated well with our residents and allowed them to join in and be included, resulting in the spontaneous singing that they engaged in post recital. I will leave the last word to a 90 year old gentleman who commented during the recital " I never thought I would have the pleasure of listening to such professional musicians again in my lifetime it was thoroughly wonderful "
We hope that you will be able to return to our Nursing Home so that we can increase the number of residents who will benefit from this wonderful musical experience."
Joseph Mooney, Director of Nursing
MOWLAM HEALTHCARE
"The staff and residents were delighted with the visit, they enjoyed it immensely. It was a welcome treat to have an amazing performance from such an accomplished group. We would love to see you all in the future if you are coming to Waterford again."
Rebecca Kavanagh, Director of Nursing
ROCKSHIRE CARE CENTRE
"I would like to say a huge Thank You for such a magnificent Covid Care Concert given to our Residents here at St. Joseph's Home, Ferrybank. Right now we have nobody with Covid so that meant that all the residents were able to enjoy such a wonderful feast of music and song. It certainly gave everyone a taste for more! I know we are very proud of our beautiful Concert Hall and because of the lockdown we arranged for a link from the Hall to the Bedrooms and lounges. This has given Rose, our activities coordinator, a great opportunity to reach all the residents – at least all those who wish. This morning there will be a live Chat Show with Rose and a special guest – it will be one of residents with an interesting life story or whatever.
I will speak again to Rose and I know she will write something with feedback from the residents. Thanks to each one of the group, you are amazing – we thank the Lord for such wonderful talent."
Sr. Roseline
PADRE PIO
"Thank you so much to you and the ladies for your performance today.
It was an absolute treat for everyone, a great variety of music to satisfy every musical taste.
You brought some beautiful weather with you and great joy to residents and staff alike after months of lockdown.
We all wish you continued success as you travel around to nursing homes. We hope to see you again as we see the benefit of music and how uplifting it was today."
Marie Dolan
HAVENWOOD NURSING HOME
"Your visiting was the highlight of their week and also our staff thoroughly enjoyed even though they were working.
All our residents have been cooped up since the middle of March and any visiting performers are greatly appreciated to break up their week."
Sheila & Sharon
ST. CARTHAGE'S NURSNG HOME, LISMORE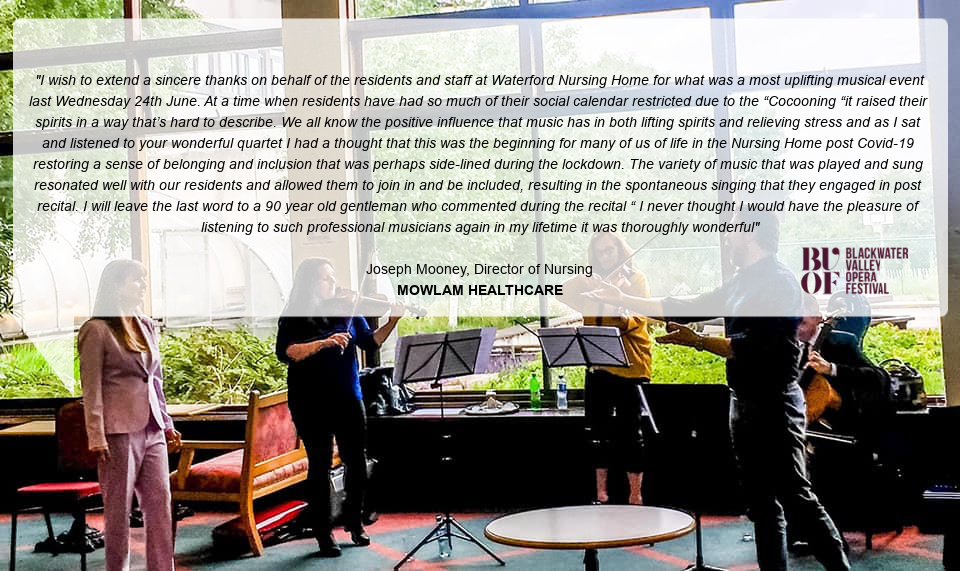 "