We are delighted to welcome Darren Hargan as our conductor of the Blackwater Valley Opera Orchestra for 2019. As well as a new conductor we are expanding the BVOF Orchestra by an additional 2 members.
Buy your 'Don Pasquale' tickets here.
An Irish conductor, Darren studied with a full scholarship for piano and conducting at the Royal Academy of Music in London. Subsequently, he studied conducting with renowned contemporary music specialist Arturo Tamayo at the Conservatorio della Svizzera Italiana. After which Darren spent time with Marc Kissoczy, Professor of Conducting at the Zürcher Hochschule der Künste.
Darren was then offered a place at the Internationales Opernstudio Zürich as assistant head coach of the Opera Studio. He remained on contract for five years at the Opernhaus Zürich under Alexander Pereira. During his time there he conducted various productions and Gala concerts.
During the Britten Centenary in 2013, Darren conducted a new production of Benjamin Britten's A Midsummer Night's Dream for the Yorke Trust. In 2014 he was reinvited to conduct Gluck's Armide with an orchestra of French period instruments. In 2016 he conducted the Carlsbad Symphony Orchestra in an all Russian programme and in 2017. Darren also stepped in at short notice to conduct Il Barbiere di Siviglia in Lugano, Switzerland with an all-star cast.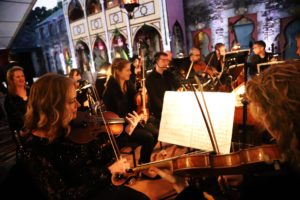 Darren is a sought-after pianist and assistant for distinguished conductors. In this capacity he has worked at the Wexford Opera Festival, Zürcher Kammerorchester, Opera Northern Ireland, Le Grand Théâtre Geneva, Opera Lucerne, The State Opera in Prague, Theatre Biel-Solothurn, and most recently at Theater an der Wien in Vienna where he conducted the ORF orchestra.
After a successful production of Der fliegende Holländer at the Selzach Festival last year, he has regularly assisted Constantin Trinks since, and this year he has been invited to assist Markus Poschner and the Orchestra Della Svizzera Italiana in Switzerland.