Concerts 2024 – Ireland's Summer Opera Festival
Please note: Booking is not available until Priority Booking opens from 20th January 2024 for BVOF Friends.
Tickets will go on General Sale 5th February 2024.
We are delighted to present our series of unmissable concerts for 2024 at Dromore Yard, Co Waterford. This year's Concerts Programme will feature Of Emperors, Kings, and Queens with Serenad Uyar, Leonardo Galeazzi, John Porter, and Dearbhla Collins; Clara Haskil Piano Competition presented by Finghin Collins; and our 2024 festival finale will be an Antonio Vivaldi Concert with the Irish Baroque Orchestra and Nicholas McGegan.
The BVOF Concert Series takes place at Dromore Yard – a romantic, restored 19th century farm on the banks of the River Blackwater at Aglish, County Waterford.  Charming outbuildings and courtyards set the scene for sold out concert series each year, with the concert venue lending itself naturally to fine acoustics and stunning views.
Of Emperors, Kings, and Queens - Thursday 30th May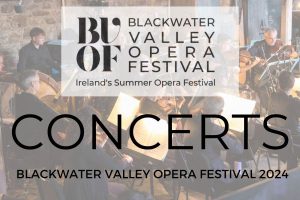 Belcanto Concert with Serenad Uyar – soprano, Leonardo Galeazzi – baritone, and Dearbhla Collins – piano.
DATE & TIME: Thursday 30th May at 8pm
VENUE: Dromore Yard, Co. Waterford
PRICE FROM: €25  – €60  (Ticket price excludes €3.50 booking fee per order)
Clara Haskil Piano Competition Concert - Sunday 2nd June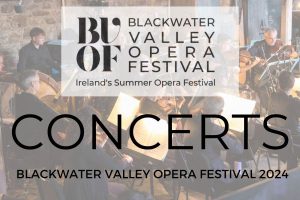 Finghin Collins presents Magdalena Ho – piano and Marc Coppey – cello
DATE & TIME: Sunday 2nd June at 4pm
VENUE: Dromore Yard, Co. Waterford
PRICES FROM: €25  – € 60 (Ticket price excludes €3.50 booking fee per order)
Antonio Vivaldi Concert - Monday 3rd June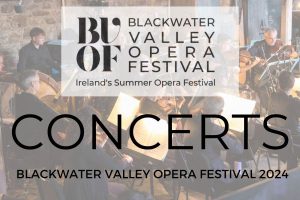 Festival Finale with the Irish Baroque Orchestra. Conducted by Nicholas McGegan, with Sarah Brady – soprano, and Iestyn Morris – countertenor
DATE & TIME: Monday 3rd June at 8pm
VENUE: Dromore Yard, Co. Waterford
PRICES FROM: €25  – €60 (Ticket price excludes €3.50 booking fee per order)