Blackwater Valley Opera Festival return this week, in partnership with Mobile Music Machine, with our Covid Care Concerts to 10 residential care home settings across Waterford. Covid Care Concerts bring classical music into the lives of our older communities and those most affected by the COVID19 pandemic.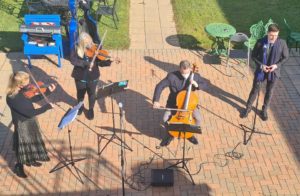 The Covid Care Concerts have already reached over 1,000 care home residents and staff in Waterford, Lismore, Cappoquin and Dungarvan. Funding from Rethink Ireland brings the concerts back to these settings for another three weeks, including concerts in Waterford General Hospital.
Blackwater Valley Opera Festival partner with the renowned classical music ensemble Mobile Music Machine to deliver these one-hour concert recitals at an appropriate social distance in the grounds of care homes across Co. Waterford. Festival Director Eamonn Carroll says, "Through our repeated concert visits, we are building terrific friendships with the residents and staff of care homes throughout Waterford. We are grateful to Rethink Ireland for supporting us and helping us to bring these concerts back to the county this week and for another programme of concerts in May and June".
The Mobile Music Machine is a leading national music education company, founded by acclaimed Irish cellist Gerald Peregrine.