Last Saturday afternoon in the beautiful surroundings of Dromore Yard, Aglish, the first Blackwater Valley Opera Festival Bursary of €10,000 was presented to two exceptional talents, Naho Koizumi, soprano and Darren Hargan, conductor and pianist. Each received an award of €5,000.
This new Bursary Award recognises talented artists who have demonstrated commitment and dedication to the Blackwater Valley Opera Festival. The bursary winners are encouraged to undertake opera-specific projects with which they may have otherwise been unable to engage, to further their musical education and performing ability, and to promote the works and endeavours of Irish composers. Both recipients were chosen by the Festival's Artistic Director, Dieter Kaegi.
Naho Koziumi who is originally from Japan, will use the bursary to fund her postgraduate studies at the Royal Conservatoire of Scotland under the tutelage of Scott Jonson. Naho, an exceptionally talented soprano, studied in the TU Dublin Conservatory of Music and Drama, where she graduated with a first-class honours and was awarded the highest vocal performance and dissertation mark in her year.
Darren Hargan's bursary will be used to produce a critical performing edition of the orchestral score of Maudlin of Paplewick, the only opera written by Irish female composer Ina Boyle (1889-1967) which has never been performed on stage. Conducted by Hargan, the opera will be presented as a world-premiere at the 2020 Festival in a concert performance at St Carthage's Cathedral, Lismore.
On announcing the award, Eamonn Carroll, Festival Director explained 'This bursary is a very exciting addition to the Festival and it would not have been possible without the generous support of one of our donors. This donor joins a community of supportive Friends, sponsors, individuals, and businesses who have enabled Blackwater Valley Opera to expand and develop our contribution to Irish classical musical.'
As was fitting, during the bursary award presentation lunch, Naho accompanied by Darren, sang a selection of vocal pieces including a beautiful rendition of Donizetti's "Quel Guardo Il Cavaliere..So Anch'io La Virtu" from Don Pasquale and "O mio babbino caro" by Puccini's Gianni Schicchi.
On receipt of the inaugural BVOF Bursary, both Naho and Darren spoke with passion about the impact that this significant amount would have on their music careers. As Naho offered her thanks she explained 'I am very grateful to BVOF for this bursary. Winning this bursary has enabled me to continue with my postgraduate studies in Royal Conservatoire of Scotland. This provides me with an opportunity to further my vocal and artistic development which allows me to pursue a career as a professional singer.'
Darren was equally delighted with his award, saying 'I am very grateful to the festival for this bursary which has allowed me to consult the manuscripts of Ina Boyle in conjunction with Trinity College, Dublin, and produce a critical performing edition of Maudlin of Paplewick. As the last major work before she died, it is the most mature example of Ina Boyle's compositional style. I am confident that this piece, based on the Sad Shepherd by Ben Jonson, is a significant and long-lasting addition to the opera repertory.'
As the event reached a close Eamonn Carroll, Festival Director enthused that 'Blackwater Valley Opera not only provides high-quality artistic performances with a focus on Irish talent but also a talent pathway allowing aspiring opera singers from across Ireland to follow their passion.'
This festival runs from 26 May to 1 June and this year is another first for the Festival as it presents an evening opera double-bill, Gianni Schicchi by Puccini and Pagliacci by Leoncavallo at Lismore Castle. A packed programme of recitals and concerts will also take place at stunning venues around the Blackwater Valley, including a visit to St. Mary's Collegiate Church in Youghal.
Blackwater Valley Opera Festival bursary recipients pianist Darren Hargan and soprano Naho Koizum pictured with board members Gianni Alen-Buckley and Michael Alen-Buckley and Eamonn Carroll, Festival Director at the 100 Club Lunch at Dromore Yard, County Waterford - David Clynch Photography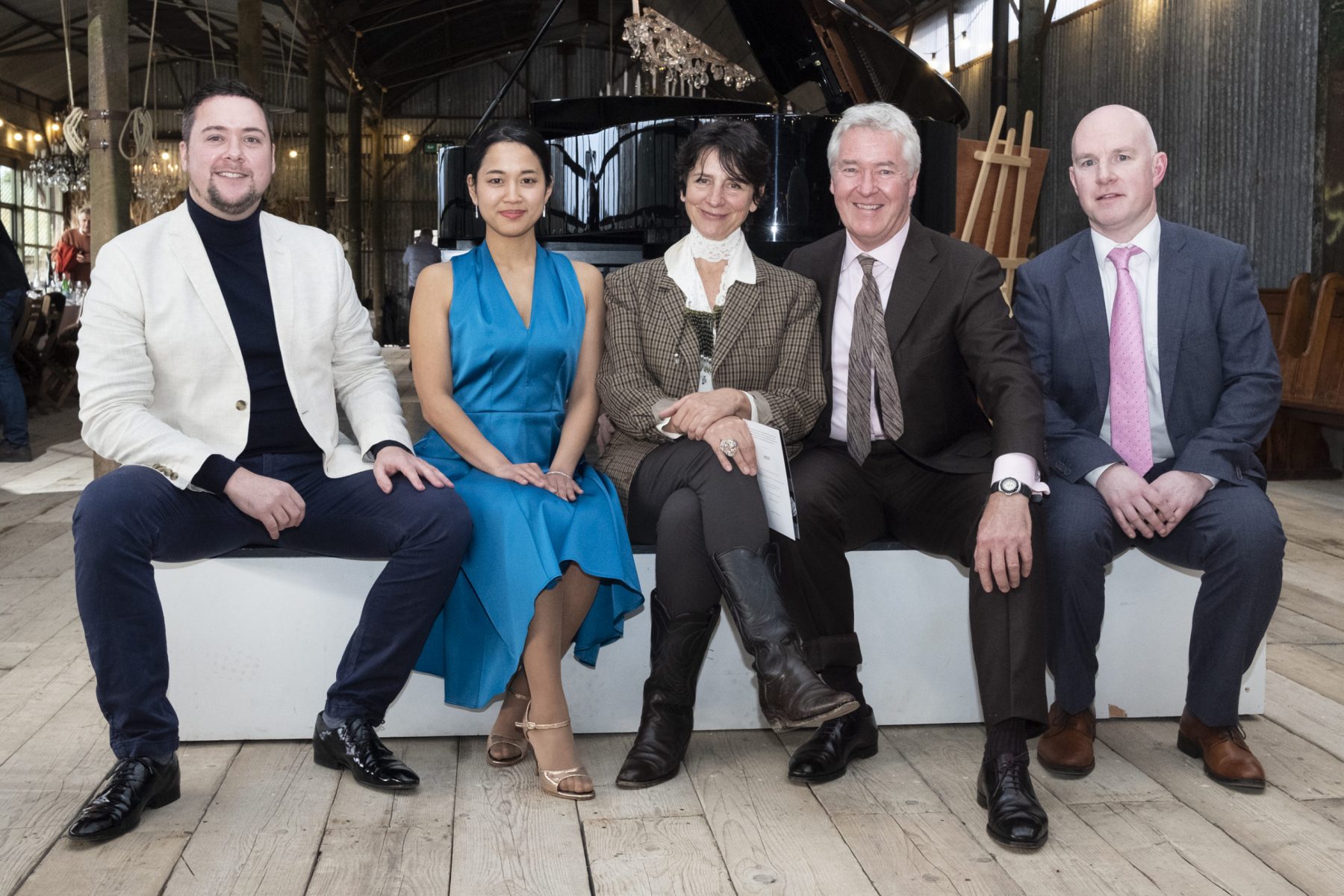 Image 1 of 21
Blackwater Valley Opera Festival bursary recipients pianist Darren Hargan and soprano Naho Koizum pictured with board members Gianni Alen-Buckley and Michael Alen-Buckley and Eamonn Carroll, Festival Director at the 100 Club Lunch at Dromore Yard, County Waterford - David Clynch Photography
Artist Links:
Darren Hargen:
Web
–
Instagram
Naho Koizumi:
Facebook
–
Instagram